Archive for May, 2010
I did get selected for the JSC tweetup next week. Â I'll be heading down to Houston to meet an astronaut, see mission control, and visit other training facilities. Â Pretty neat stuff.
No comments
Well, I wasn't selected for the first NASA tweetup. Â I signed up for the "runner-up" tweetup at JSC. Â Still pretty neat, getting to see the Mission Control Center during a running shuttle mission. Â I'll find out if I was picked in a few days. Â I'm trying not to get my hopes up.
No comments
I saw Air Force One earlier today as it flew over Dearborn. Â President Obama spoke at the University of Michigan earlier today. Â Using the NOTAM information, I knew the approximate arrival time and kept an eye out. Â Here's the photo I snapped: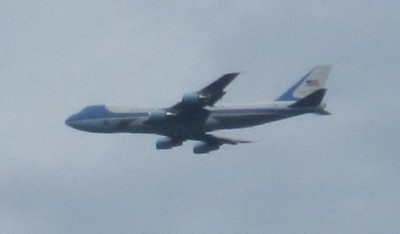 Pretty neat that I got to see it…
No comments